Checklist of questions to ask wedding musicians: From my experience as a musician and representing the Musicians' Association of Seattle at the Seattle Wedding Show, I know most people booking live music for their … Read more
When it comes to planning wedding music for your wedding it can be overwhelming! There are so many options to consider from hiring a DJ to using a premade play list from your smart … Read more
Healthcare
As a benefit of membership, the Musicians Union offers dental insurance for an additional charge.
For more information go to the Membership page and click on Healthcare.
Nate Omdal, Organizer
Contact Nate Omdal or call 206-441-7600
Our Labor Organizing Department offers assistance in coordinating union campaigns and recruitment programs.
Local 76-493 supports other unions, the M. L. King County Labor Council and works with community and organizations and coalitions. 
Organizing Goals:

Organize musicians to achieve union recognition and work under collective bargaining agreements
Develop a "culture of organizing" that promotes organizing and collective action as the foundation for building a strong union
Expand recruitment efforts and membership retention
Offer training and education to members about unionism primarily through the organizing experience
Improving solidarity with organized labor and actively participating in the revitalization of the labor movement
Develop contacts with community based organizations, and working in labor/community coalitions
Useful Links For Musicians Interested In Organizing:
Save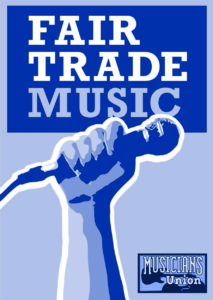 Fair Trade Music Seattle Website
These clubs have signed a FAIR TRADE MUSIC PLEDGE to provide musicians with a written contract, with accountability and transparency:
88 Keys
315 2nd Ave S, Seattle
206-839-1300
www.ilove88keys.com
Barbaroza
925 E Pike St, Seattle
206-709-9442
www.thebarboza.com
Blue Moon Tavern
712 NE 45th St, Seattle
206-675-9116
www.bluemoonseattle.wordpress.com
Capitol Cider
818 E Pike St, Seattle
206-397-3564
www.capitolcider.com
Chop Suey
1325 E Madison St, Seattle
206-538-056
www.chopsuey.com
Columbia City Theater
4916 Rainier Ave S, Seattle
206-722-3009
www.columbiacitytheater.com
Couth Buzzard
8310 Greenwood Ave N, Seattle
206-436-2960
www.buonobuzzard.com
The Crocodile
2200 2nd Ave, Seattle
206-441-4618
www.thecrocodile.com
Egan's Ballard Jam House
1707 NW Market St, Seattle
206-789-1621
www.ballardjamhouse.com
Fiddler's Inn
9219 35th Ave NE, Seattle
206-206-525-0752
www.thefiddlersinn.com
Highway 99 Blues Club
1414 Alaskan Way
206-382-2171
www.highway99blues.com
Hopvine Pub
507 15th Ave E, Seattle
206-328-3120
www.hopvinepub.com
J&M Café
201 1st Ave S, Seattle
206-402-6654
www.facebook.com/jmcafeseattle.pioneersquare
Latona Pub
6423 Latona Ave NE, Seattle
206-525-2238
www.latonapub.com
The Moore Theatre
1932 2nd Ave, Seattle
206-682-1414
www.stgpresents.com/moore
Nectar Lounge
412 N 36th St, Seattle
206-632-2020
www.nectarlounge.com
Neptune Theatre
1303 NE 45th St, Seattle
206-682-1414
www.stgpresents.org/neptune
Neumos
925 E Pike St, Seattle
206-709-9442
www.neumos.com
The Paramount Theatre
911 Pine St, Seattle
206-682-1414
www.stgpresents.org/paramount
Re-Bar
1114 Howell St, Seattle
206-233-9873
www.rebarseattle.com
Royal Room
5000 Rainier Ave S, Seattle
206-906-9921
www.theroyalroomseattle.com
Seamonster Lounge
2202 N 45th St, Seattle
206-992-1120
www.seamonsterlounge.com
The Showbox
1426 1st Ave, Seattle
206-628-0221
www.showboxpresents.com
Showbox SoDo
1700 1st Ave S, Seattle
206-652-0444
www.showboxpresents.com
Skylark Café
3803 Delridge Ave SW, Seattle
206-935-2111
www.skylarkcafe.com
Stone Way Café
3510 Stone Way N, Seattle
206-420-4435
www.stonewaycafe.com
Tula's
2214 2nd Ave, Seattle
206-443-4221
www.tulas.com
Vito's
927 9th Ave, Seattle
206-397-4053
www.vitosseattle.com
Watershed Pub & Kitchen
10104 3rd Ave NE, Seattle
206-729-7433
www.watershedpub.com
Waving Tree Winery
11901 124th Ave NE, Kirkland
425-820-0102
www.wavingtreewine.com
Save